Cranberry and Orange Bread
SallyDe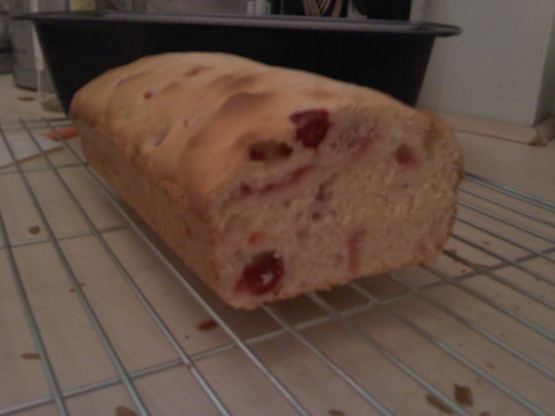 A nice way to use up those Christmas (and Thanksgiving) cranberries that don't make it into your cranberry sauce. This is pretty low calorie as it contains no oil or butter, just applesauce. Orange and cranberry go well together. I read a recipe for a cranberry bread and decided to make it healthier and ended up almost completely changing the recipe, so I like to count it as my own.

I think that it is very delicious! I am going to make more!
Preheat oven to 350ºF/Gas Mark 4/180ºC.
Grease the bottom of a 2lb or 9 x 5 x 3 loaf tin.
Mix sugar, applesauce, milk, orange juice, orange zest, vanilla and eggs in large bowl.
Stir in cranberries.
Mix in dry ingredients.
Pour into tin.
Bake 30 to 35 minutes or until a toothpick or skewer inserted into the center comes out clean.
Cool 10 minutes in tin.
Loosen sides of loaf from tin and remove onto a wire rack.
Cool completely on wire rack before slicing.
Can be stored in fridge tightly wrapped for up to a week.