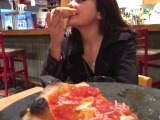 My favorite NA beverage is sparkling water with or without flavors. Here's one we all love!
Directions
In a pretty glass plce ice cubes.
Pour the cranberry juice in and the pour in the sparkling water.
Top with the lime juice and enjoy!
Reviews
Most Helpful
This is a great drink when you are looking for something refreshing and light. It is very lightly flavored, but looks so pretty. A nice alternative to plain water.

Tasty and very refreshing. I love trying non-alcoholic drinks because I am not big on booze but enjoy a nice tasty drink. This is certainly one I will be repeating. Made for Vegetarian swap.

Very tasty and what I do for this lovely drink is freeze cranberry juice with small wedges of sliced lime and a few whole cranberries in ice cube trays, WOW they hold their color and look great, when frozen I have kept them in a plastic container for about a month and they keep nice. They perk up the eye appeal of this drink. Whenever I use whole cranberries for a recipe I always save a few aside in my freezer for special garnishes like this. Will post photo later.