Cranberries & Chicken Cutlet
Derf2440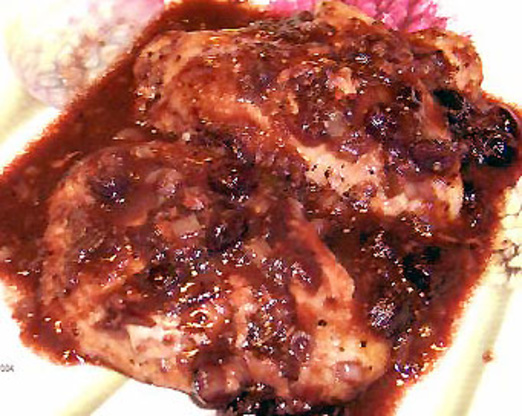 Simple recipe and very tasty! I love to serve this with rice, brussels sprouts and baby carrots.

My husband is not a fan of those little red berries in any way, shape or form, but after we made this for dinner, he's a convert (at least for this one dish, anyway)! I always love any dish that combines fruit with meat, and these were perfect! The sauce was wonderful, perfectly flavored by the combination of the cranberries, onions, vinegar and bay leaves. Thanks for another favorite for our book!
If using breast halves place them between plastic wrap& pound them until they are apprx1/4" thick Season the cutlets on both sides with salt& Pepper.
Melt 2 tbsp butter in a skillet and brown the cutlets on both sides, apprx 4 minutes per side remove chicken from pan.
In the same pan melt remaining tbsp butter add shallots and bay leaves, saute 1 minute.
Add wine, bring to a boil,reduce to a thick glaze, scrapping the brown bits from the bottom of the pan apprx 4 minutes.
Add cranberries, broth& vinegar, cook until the sauce thickens slightly apprx 3 minutes.
Return chicken to the pan& simmer until heated through apprx 2 minutes, remove bay leaves Place chicken on plates and spoon the sauce over.