dojemi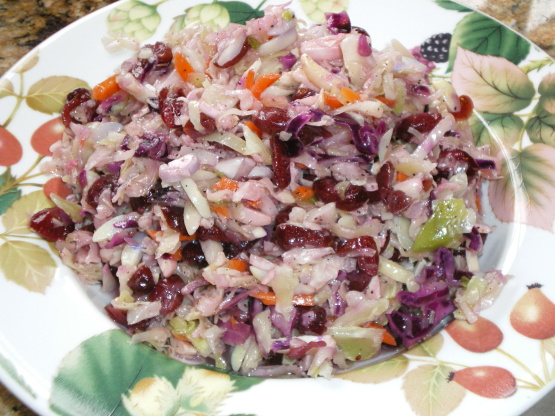 This is a delicious recipe that disappears quickly.

I loved this dish. It was so super easy and tasted great. I made it for a BBQ as an alternative to creamy mayo slaw and it was a hit. Thanks for posting. I will definitely make this again.
1

(16 ounce) bagshredded coleslaw mix
1⁄3 cup oil

4

tablespoons vinegar

5

tablespoons sugar

1

teaspoon salt

1

teaspoon pepper, to taste

3

ounces toasted slivered almonds
1⁄4-1⁄2 cup dried cranberries (craisins)
Put cole slaw mix into bowl.
Mix together the oil, vinegar, sugar, salt & pepper.
Pour over cole slaw mix.
Toast almonds on cookie sheet at 350 degrees for 5 minutes.
Put almonds and craisins into slaw mix and toss.