Chilicat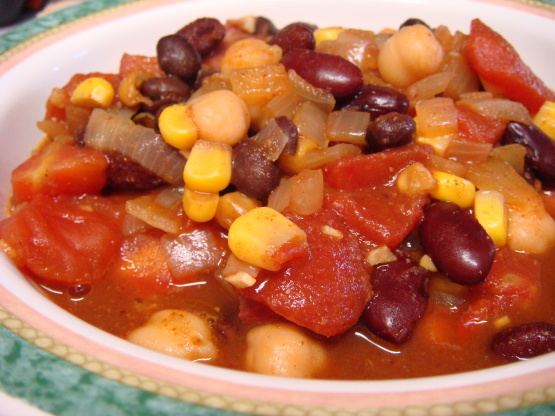 A healthy and delicious chili that my boyfriend created to help us get through the cold weather here in Toronto. It happens to be vegan, but could also be adapted to include meat. This recipe fits nicely into our student budget, but doesn't taste like it!

Loved this! Super easy to make too. This is such a nice, hearty meal for a fall evening. I LOVE the idea of using BBQ sauce to add flavor. Also I like that it's healthy...until you top it with sour cream and cheddar like I did...
Saute the onion and garlic in oil until the onion becomes translucent, or about 5 minutes.
Add chili powder, cumin and cayenne and cook for about a minute, being careful not to let the spices burn.
Add diced tomatoes and barbeque sauce (if using) and bring to a boil.
Add the cans of beans and corn.
Cover and simmer for about 40 minutes, adding salt and tabasco sauce to taste.