NELady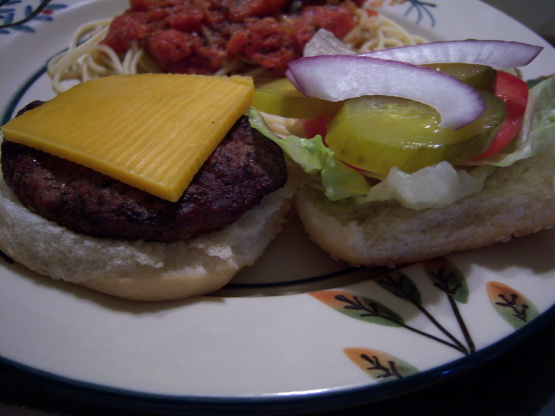 Simple, unfussy, but so yummmmmmmy! :) Feel free to use your favorite seasoning blend, Creole Seasoning Blend is our favorite, but I have used Jamaican Jerk seasoning, Italian seasoning, whatever I have. We like using 85% lean ground beef for these, so that they are nice and juicy after being grilled. The patties can made ahead of time and frozen (OAMC style)
Preheat the grill.
Mix ground beef and seasoning well, shape into 4-6 patties (depending on how big you like your hamburgers). Remember that they will shrink during cooking. At this point you can either pass them to your husband to grill (well, that's what I do, his grill is his baby and I don't touch it!), or you can flash freeze these on waxed paper to grill another day.
Grill over medium heat about five minutes per side, or until. done to your taste.
Meanwhile (or before hand if you are the one grilling, too), slice tomato and onion, and toast buns (optional).
Smear buns with mayo, and put hamburger patties on them.
Arrange tomato, onion, lettuce leaves, and cheese slices on a plate (or cutting board) and let each person to pick through and put what they want on their burger. But give you children the hairy eyeball if they don't take veggies. :).