Craft Dough for Ornaments
MsSally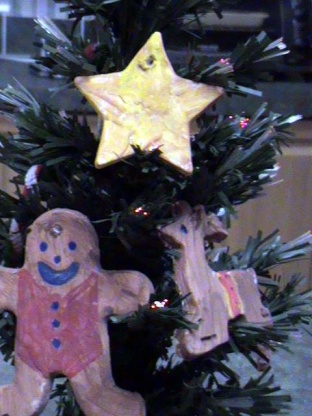 My four-year old had great fun with this ornament recipe this holiday season; in fact, we had to make several batches. The ornaments are very smooth, perfect for painting. I had the most success when I halved the recipe and didn't leave it too long to cool, just long enough to handle. While it made perfect smaller ornaments, I had some cracking as they dried when I used the dough to make larger handprint ornaments.

I'm giving it a 4 because I had alot of trouble with breakage as the ornaments dried. But this was a fun Saturday project for DD (3) and I and we had fun painting them also. This is good for small ornaments or ornaments that do not have alot of detail, not for ornaments that are more than about 3 inches high.
Mix baking soda and cornstarch in a pot.
Add 1 1/4 cold water.
Stir and bring to boil; continue stirring one minute until consistency of mashed potatoes.
Place dough on cutting board and cover w/ damp cloth.
Cool then knead, roll into shapes or cut w/ cookie cutter on waxed paper. (My first batch was a dream to roll, for my second I used extra cornstarch to roll.)
Allow to dry. (I let them air dry on cookie sheets covered with wax paper over several days, turning once a day.)
Paint.
Remember to make a hole to hang on a hook or ribbon.