Crackers Just Like Saltines - Homemade
Bsowell7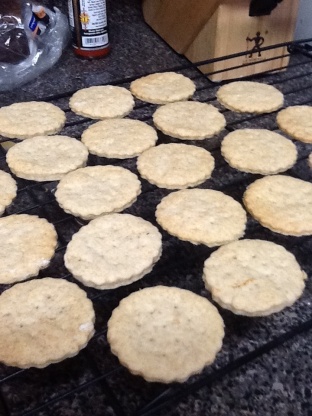 These are good crackers that remind me of saltines :-) Found this recipe online a long time ago (cant remember how many crackers this makes as it has been a long time since Ive made these, sorry!!! so please dont take my servings as exact, because i really cant remember)

Good crackers that are much like saltines, but don't break as easily. To get them crispy and browned, I did cook them almost 20 minutes. Recipe makes about 10 dozen crackers 1/8 to 3/16 inches thick. I used an ungreased cookie sheet, and they did not stick. The second time I made these, I substituted 2 cups cornmeal and whole wheat flour for the plain flour, and added 3 tbs sugar. These turned out well, too! For a theme party, I will make them again and cut with different shaped cookie cutters. They are sturdy enough to use for thick spreads or for dipping. Thanks Love4, for sharing this recipe.
Mix flour, baking powder,& shortening and then add milk; blend well.
Form a ball with the dough and divide into 4 sections.
Roll 1 section out very thin (about 1/8 to 3/16-inches) -- making sure it is rolled out EVENLY -- and cut with a cookie cutter (you can use all shapes!) or a pastry wheel with the crinkled edges, and repeat with other sections.
place on an ungreased cookie sheet& prick the dough with a fork several times and sprinkle with salt.
Bake at 375 for 12-20 minutes until golden brown, but be careful not to burn!