Cracker Barrel Hash Browns Casserole 2 - Copycat
WiGal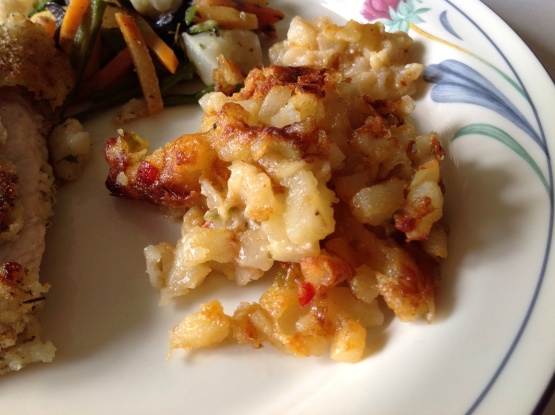 This is another copycat version of Cracker Barrels hash brown casserole. I found this recipe in a book borrowed from a friend , dont remember the name. The recipe here is designed for a skillet that is also safe for the oven. If you dont have one, you can easily transfer the casserole to a baking dish after its done cooking on the stove.

I love the hint of a beefy flavour! I don't use salt b/c of the cheese. It's a bit greasy but what a great casserole for brunch of dinner!!
Preheat oven to 425 degrees F.
Combine the frozen hash browns, cheese, and onion in a large bowl.
Combine the milk, beef stock, half the melted butter, the garlic powder, salt, and pepper in another bowl.
Mix until well blended, then pour the mixture over hash browns and mix well.
Heat the remaining butter in large, ovenproof skillet over high heat.
When the skillet is hot, spoon in the hash brown mixture.
Cook the hash browns, stirring occasionally, until hot and all of the cheese has melted (about 7 min).
Put the skillet into the oven and bake for 45 to 60 minute or until surface of hash brown is dark brown.