Cracker Barrel Green Beans
Bev I Am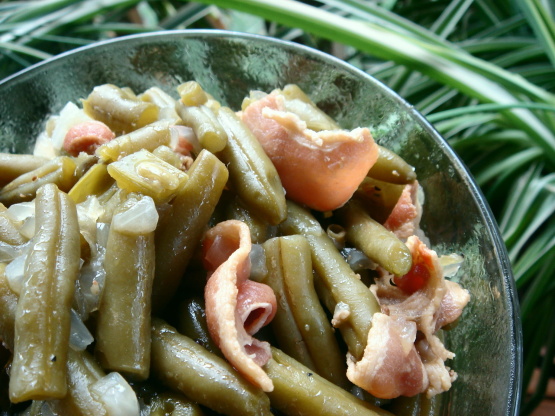 This is the only way I can eat canned Green Beans!

Delicious! *wiping drool from chin* Heavenly! Of course, how can anyone go wrong with bacon, sugar, and green beans?? This recipe even works well with frozen green beans. Perfection in the form of a side dish. Thanks for posting the recipe!
In a 2-quart saucepan over medium heat, cook bacon until lightly brown but not crisp.
When bacon has browned, add green beans.
Add salt, sugar and pepper and mix well.
Place onion on top of green beans.
Cover saucepan with a lid and bring to a light boil.
Turn heat down to low and simmer beans for 45 minutes.