Cracked Pepper Parmesan Dressing
alligirl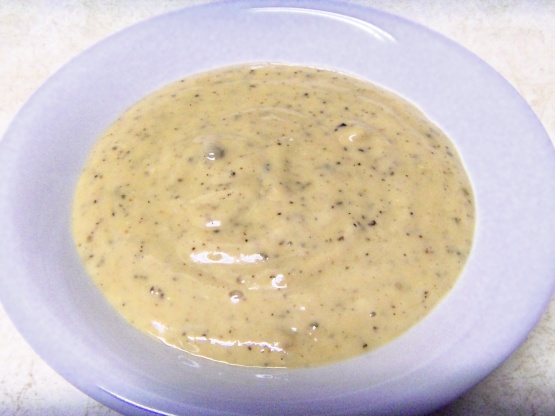 From Cuisinart Cook Book. Good on pasta salad. I love anything with Worcestershire sauce in it.

I liked this, though it was just a tad strong for our tastes. Shallots are not something I typically use, and perhaps I used a bit too much. That said, this came together like a dream, in the blender (SURPRISE!) and was very thick and creamy. I may make it again, reducing the amt. of shallot, or substituting some sweet onion (maui or vidalia) in place of the shallot, for a less pronounced taste. I do not have a lot of experience making my own salad dressings, so I'm not sure how to adjust to my taste. I'm gonna work on that though! Thanks for sharing, Jamilah's Kitchen.
Place the whole peppercorns in blender jar.
Blend for 10 seconds.Some peppercorns will be pulverized,some will be cracked and crushed.
Remove and reserve.
Place the Parmesan cubes in blander jar.
Blend for 20 seconds and scrape sides of jar.
Add shallot, garlic and salt.
Blend for 10 seconds and scrape sides again.
Add remaining ingredients in order listed.
Blend for 10 seconds.
Add black peppercorns. Blend for 5 seconds.
Transfer dressing to a resealable container and refrigerate for 30 minutes or longer to allow flavors to develop.
Keeps for one week in refrigerator.