Cracked Black Pepper Salmon
LorenLou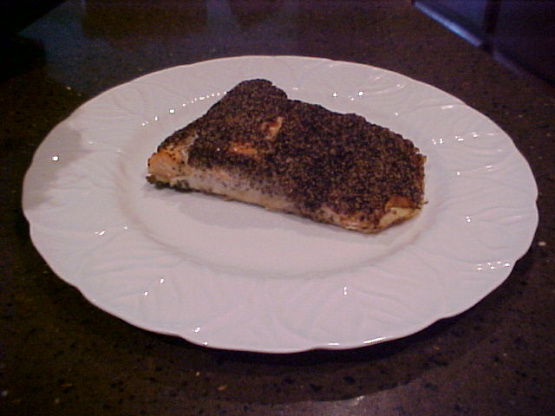 This is such a simple way to dress up salmon. The olive oil helps the pepper to crisp up in the oven, adding texture to the fish. Despite the amount of pepper on top, the spice is not overwhelming, just nice. You must use freshly ground black pepper for this, which is fairly coarse, not the powdered black pepper.

This was superb! The fish was juicy and tender and the cracked pepper added a lovely texture and a flavorsome 'bite'. I accompanied it with Tartiflette - The Indulgent Version recipe #40603, and it was a perfect foil for the richness of the potatoes. Thanks for sharing this recipe - it's great!
Spread 1/2 the black pepper on a plate.
Smear 1 tsp olive oil over one side of the salmon fillets.
Lay the fillet, oiled side down in the pepper.
Lift and put on a baking sheet, peppered side up.
Repeat the process with the second fillet.
Bake at 350 F or 180 C for around 20 minutes, or until the fish flakes easily.