Crack Pretzels - Bet You Can't Eat Just One
jrtfan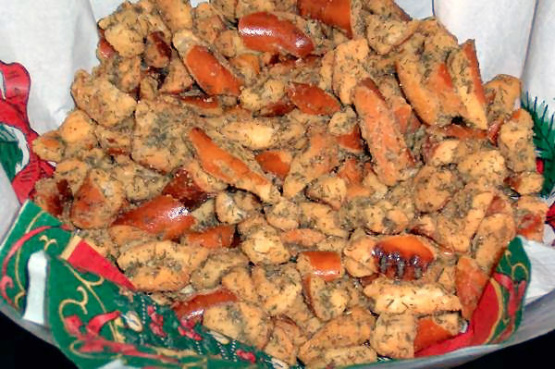 These are so addictive! I gave this recipe to some folks who now make 2 batches a week! This was given to me by Joyce, a co-worker. Note : Please use the large pretzels broken into pieces, these absorb the oil and flavor better then nuggets, or small twists. added: 10/29/08

These turned out really yummy! The only bad thing that I noticed was that even though I added 1 tsp of garlic powder instead of the different salts it was still a bit salty. I did however add a little extra ranch powder which might have made it too salty. I also about halfway through baking added about a 1/4 cup parm cheese. I also added twice the cayenne pepper, however next time I think I'll add paprika instead. Also add 1/2 a cup of parm cheese at the beginning and less ranch.
1

ounce ranch dressing mix, hidden valley original Ranch dressing

16

hard pretzels, broken into pieces (1 whole bag)
3⁄4 cup oil, I use olive

1

tablespoon dried dill weed or 1 sprig fresh dill weed
1⁄2 teaspoon garlic salt
1⁄2 teaspoon onion salt
1⁄4 teaspoon cayenne pepper (optional)
1⁄2 teaspoon kosher salt (optional)
Preheat oven to 275°F.
Mix oil, garlic salt, onion salt, Hidden Valley dressing in a bowl with pretzels to coat pretzels.
Bake for 15-25 minutes at 250°F stirring several times.
Remove from oven to cool, stirring frequently until cool and well coated with the dressing.
I sometimes add extra kosher salt to this as well as some cayenne pepper for added zing.