teresas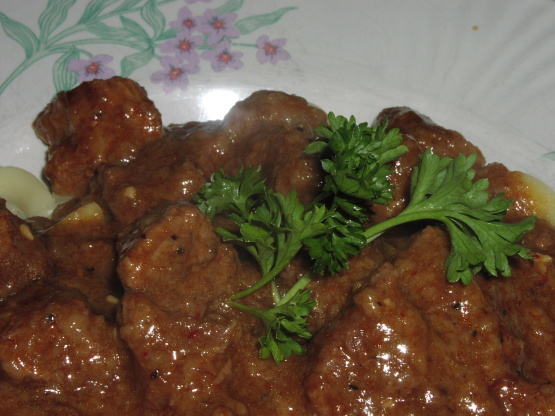 A recipe from Quebec and very good.

This was really quite tasty! I made this is my crockpot and the meat was fall apart tender. Here's how I did it in the crock pot: I sauteed the onion and garlic and added to the crockpot. I reduced the water to 3/4 cup, and increased chili sauce to 1/4 cup. I added everything but the flour coated beef and stirred well. I shook the beef in flour in a gallon sized ziploc and sauteed in oil. After browned I added it to the crock pot. I cooked it on high for 3 hours and then low for 3 hours. I thickened the sauce with a little cornstarch and water and served over mashed potatoes. There was plenty of sauce and no additional liquid was needed. This is such a nice "fix and forget" recipe. The house smells wonderful too. Thanks for sharing. Recommended. Made for ZWT4 Canadian Crockpot Challenge
Brown onions and garlic in oil. Set aside and keep the oil.
Roll the chunks of beef into flour. But remove the excess of flour.
To sauté (fry) the chunks of beef in 3 tablespoon of oil. Water down with water.
Incorporate chili sauce. Season with salt and pepper and bayleaf.
Cover and cook in the oven at 375 F for about 2 hours. Add parsley.