Crabmeat Frittata with Tomatoes and Herbs
PaulaG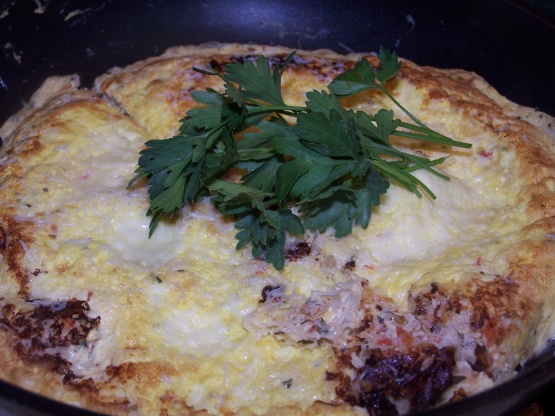 Here's a delightful open-faced omelet -- perfect for brunch -- that uses fresh crabmeat as its star ingredient!
Top Review by PaulaG
This is wonderful. I divided the recipe to make 2 healthy servings. I used egg substitute for the eggs and since my fresh basil is about gone, I used fresh sage and added some dried basil and thyme. For the crabmeat, I used a 6 oz can, drained. Thanks for sharing.
In a bowl, whisk the eggs until frothy and season with half the salt and pepper.
In a nonstick 10-inch skillet, cook the garlic and shallots in the olive oil for 1 minute over moderate heat.
Add the tomatoes, basil, and thyme, raise the heat, and continue cooking until most of the water from the tomatoes has evaporated.
Stir in the crabmeat, season with the remaining salt and pepper, and cook 1 minute to heat through.
Stir the eggs into the skillet.
Over high heat, continue stirring with a wooden spoon while simultaneously shaking the pan back and forth over the flame.
The eggs will begin to form small curds.
Continue stirring and shaking until the eggs are set but still somewhat soft on top.
Loosen the frittata from the skillet with a rubber spatula and slide it onto a large dinner plate.
Cover the frittata with another dinner plate and invert the plates.
Slide the frittata back into the skillet and continue cooking over high heat to brown the other side, about 2 minutes.
The cooked frittata should be golden brown on both sides.
Carefully transfer the frittata to a large dinner plate, cut into wedges, and serve hot or at room temperature.