Parsley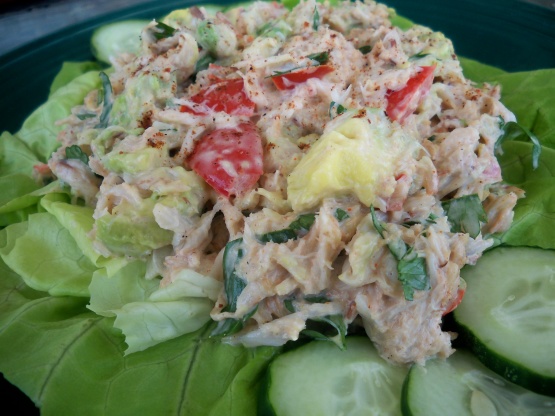 This is from a South Beach cookbook, but I like it with imitation crabmeat a lot better. The original recipe also calls for the jarred roasted red peppers but I find I don't really miss it if I don't have them. One of my favourites and it's even good thrown in a tortilla with a little lettuce for a sandwich! I will say though, it doesn't keep that well - eat it the day you make it as it get kind of watery and the avocado gets a little mushy the next day. I also usually just wing it with the cayenne, depending how much spice I feel like and I add more cilantro sometimes because I love it!

I made this to take to work today in sandwich form and it was delicious (work is 2 blocks from home so no worries about keeping it chilled). I used sourdough bread and added lettuce to make a great lunch. The roasted pepper was nice and I liked the addition. Thanks for sharing this lovely recipe. :D
Combine, mayo, cilantro, red pepper, lime juice, and cayenne in a medium, non-reactive mixing bowl.
Mix in crabmeat well then gently fold in the avocado and serve!