Crabapple Hot Pepper Jelly
Deb Wolf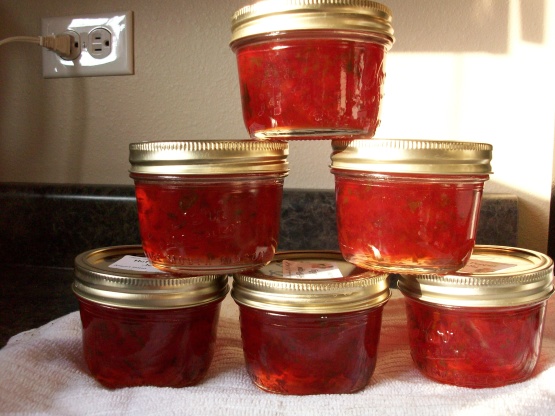 The snap of autumn in a jar. A perfect accent for chicken or pork and very tasty with cream cheese. Posted in response to a recipe request. While this recipe is written in an old-fashioned way, it is perfectly safe if processed using modern methods. If you are unfamiliar with these techniques, please go to http://www.uga.edu/nchfp/how/can_home.html for the current information.

A very easy and dependable recipe, which I have made 3 times (so far). I used apples thinned from our trees in the spring. I didn't have cheesecloth, so I lined my strainer with several overlapping dampened coffee filters and left it to drip for 4 hours. I found it took longer than stated to reach a set, then realized that I should have started the timing when it foamed up and the entire surface was covered with lots of tiny bubbles with many larger ones bubbling through. When timed from that point it took 20 minutes. I didn't have red wine vinegar the first time I made it, so I successfully substituted apple cider vinegar. However, I have since made it with red wine vinegar and like the flavor and color much more made with red wine vinegar. It went from a good jelly to an outstanding jelly. To suspend the pepper pieces, ater I took it off heat, I stirred it every minute or so for 10 minutes.
In a Dutch oven, combine crabapples with water.
Cover and bring slowly to simmer.
Cook until crabapples are very soft.
Pour into a colander lined with a square of dampened cheesecloth and placed over a deep bowl.
Weight down with a saucer and heavy can.
Let stand until dripping stops.
Discard pulp.
Pour collected juice into a liquid measure.
Add enough vinegar to make 3 cups.
Combine in a saucepan with sugar.
Bring to a boil, stirring constantly.
Add peppers, then boil briskly for 8 to 10 minutes or until set.
Stir for 7 minutes to prevent floating peppers.
Pour jelly into hot, sterilized 8-ounce canning jars.
Seal with two-piece canning lids.
Let cool, then refrigerate.
For long-term unrefrigerated storage, process in boiling water bath for 5 minutes immediately after sealing jars.
NOTE: To test for set, remove pan from heat.
Dip a cold metal spoon into the liquid and hold well above the steam.
Turn spoon sideways and let liquid run off.
When it forms two drops that run together and drip from edge of spoon, jelling point has been reached.