Sageca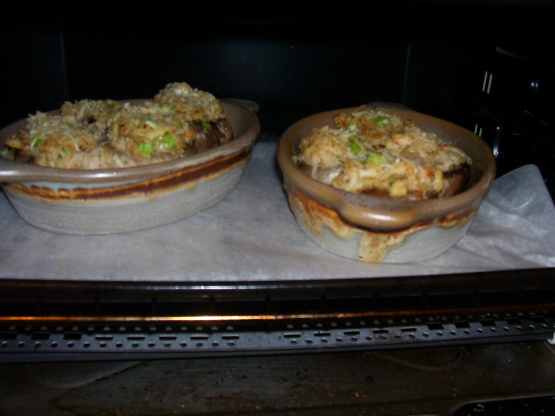 This recipe came from Southern Living Magazine years ago.....make copies of it to take with you wherever you serve it! They will ask for it

This is a wonderful dish! I make it during the Holidays as an appetizer and it's always the first to go. Make sure your family &/or your guests know that they are VERY hot when first taken out of the oven!!!
2

tablespoons salad oil

1

(6 ounce) package frozen crabmeat, thawed and drained (or use fresh..I do)

1

egg, lightly beaten

2

tablespoons mayonnaise

2

tablespoons onions, finely chopped

1

teaspoon lemon juice
1⁄2 cup soft breadcrumbs, divided equally
Gently rinse mushrooms, and pat dry.
Remove stems.
Brush caps with salad oil, and place upright in a buttered baking dish.
Combine the egg, crab, mayonnaise, onion, and lemon juice with 1/4 cup breadcrumbs.
Stuff the caps with the mixture. Combine the remaining 1/4 cup breadcrumbs with the melted butter.
Sprinkle over crab mixture. Bake at 375 for 15 minutes.
They should be a golden brown on the breadcrumb/butter topping.
Serve immediately.
Also, caution when they are served.
There will be juice in the cap under the mixture which will be VERY hot.