JES8887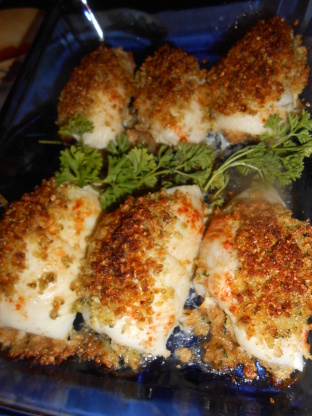 I love this dish I got it off of the T.V years ago and I make it often. I normally use a whitefish of some sort. Tilapia or Flounder are my favorites. I usually serve with rice and steamed vegetable. It's filled with flavor and is pretty easy to make. I could eat the stuffing all by it's self. A lot of times I double the stuffing but it's up to you what you think.
Preheat the oven to 400°F; coat a 9x13-inch baking dish w/ non stick cooking spray.
In a large skillet melt 4 T butter over medium-high heat. Add celery, onion & parsley. Sauté until tender. Remove from heat and stir in crabmeat, bread crumbs, lemon juice and red pepper flakes.
Spoon crabmeat mixture evenly over the filets. Starting from the small end, roll up each fillet, jelly roll- style. Place the rolls seam side down in baking dish. Melt the remaining butter and drizzle over fillets. Sprinkle with paprika.
Bake for 20 -25 minutes, or until fish flakes easily with a fork.