Crab Stuffed, Crumbed, Chicken
Peter J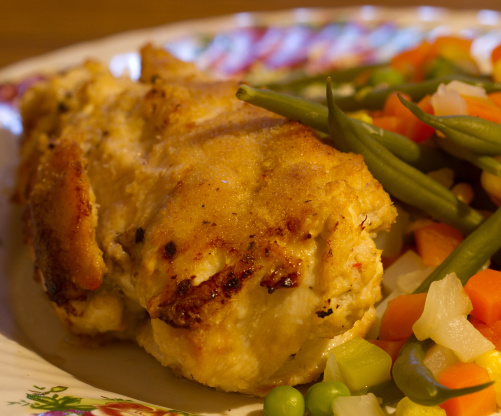 I made these for dinner last night and thought they were excellent. I caught the crab, but you could use canned or imitation I guess

Really flavourful and moist! The chicken breasts I used weren't really the best shape for stuffing and I did a terrible job of sealing them so I was suprised how well they held together and they cooked up nicely without leaking despite my gaps. Much enjoyed along with some simple mixed vegies.
Mix together first 7 ingredients. Refrigerated about 20 minutes to firm up the mixture.
Cut a slit in longest side of chicken fillet, lay open and fill with half the mixture,.
Press edges together to seal.
Carefully coat each side of breast in seasoned flour, shake excess off.
Dip into egg, then into the crumbs, pressing gently to coat.
Refrigerate 30 minutes.
Heat oven to 200°C.
Pour oil into a shallow pan. Place the chicken breast in serving side down, coat in oil and turn over.
Bake 20-25 minutes or until cooked through but still juicy.