Crab-Stuffed Avocado Half-Shells
Annacia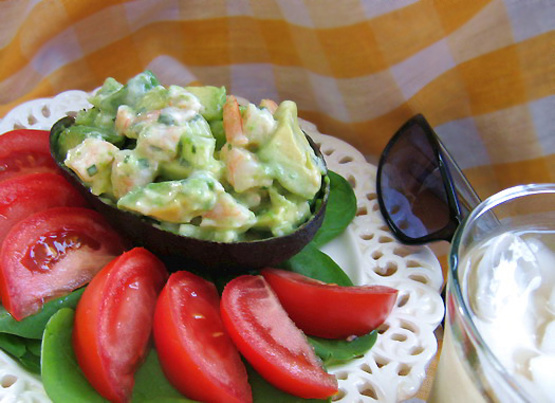 Simple and elegant salad. You can substitute cooked shrimp for the crab.

WOW. this has to be the embodiment of summer. The crisp fresh crunch of the celery, the tang of the lemon, the nip id the Tabasco all playing against the rich, creamy smoothness of the avocado. Perfection. I used low fat mayo and passed on the dill. I chose the shrimp option and cut them into about the same size as the 'cado chunks. Sorry but I have to cut this review off now because I have to get to the store for more avocado's!! Made for Photo Tag.
Prepare the sauce by mixing the mayonnaise, celery, chives, Tabasco sauce, salt and pepper.
Reserve.
Cut avocados in half lengthwise.
Separate the halves by gently turning them in opposite directions, and then remove the pits.
Using a spoon, remove the avocado meat and dice. Immediately sprinkle with lemon juice.
Leave the shells intact.
Remove the crabmeat from the shells and chop coarsely.
Gently mix avocado and crabmeat, and then fold in sauce.
Adjust seasoning as need be.
Stuff avocado half-shells with mixture and decorate each with a sprig of dill.