teresas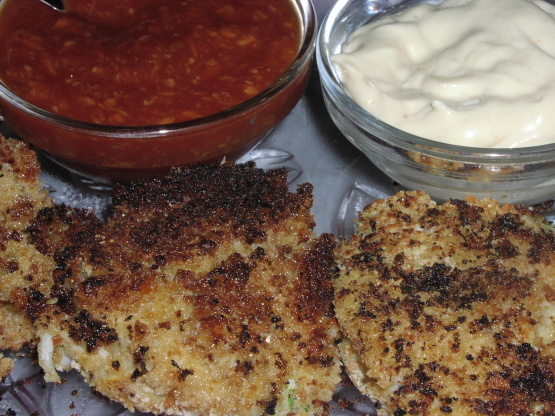 This is a recipe was adapted from a regular crab cake recipe, & these little goodies are great finger foods for the dinner table or for a buffet of appetizers! For the bread crumbs I usually use 1 cup of unseasoned crumbs [store bought] & 1 cup of my own, made from Orowheat's winter wheat bread.

Well, after some extra work I did manage to get them on a popsicle stick. I did end up with 24. Now the flavor with the chives, pepper,along with the crabmeat is EXCEPTIONAL !! It made for a great appetizer for us, and plan on making again. Made for Gimme 5.
In a large bowl, gently beat egg & egg whites.
Stir in chives, flour, baking powder, salt & pepper, & mix well.
Fold in crabmeat, then cover & cool in refrigerator several hours.
Put bread crumbs in a pie plate or other shallow bowl.
Measure crabmeat mixture by mounding one tablespoon [about 1/8 cup], then shaping that amount into a small flat stick or cake about 3/4" thick.
Gently roll & coat each stick in bread crumbs & set aside. There should be about 24 sticks.
In a large nonstick skillet, with oil over medium-high heat, cook crab sticks in batches for about 4 minutes on each side, or until golden brown.
As each stick is removed from oil, place on paper-towel lined wire rack.
Serve at room temperature with a seafood dipping sauce.