Parsley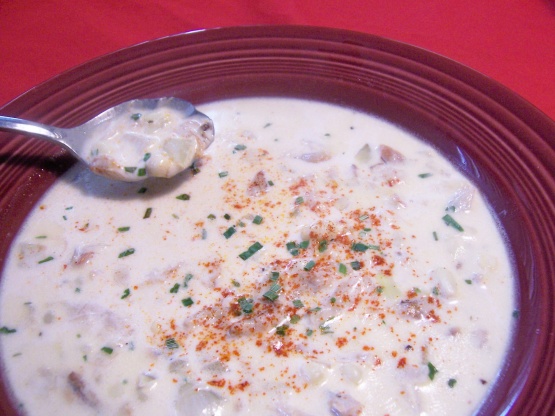 Posted per request. I had this marked in a new cookbook to try. Just waiting for the summer and my seafood "connection" to get back to work.

BIG HIT!! I doubled the recipe and took it to a soup dinner at church! I'm not kidding when I tell you that of the 20 soups presented, the crab soup was gone within 10 minutes! In fact, I almost didn't get any for myself!! I received SO many compliments! As far as how I made it, I used extra butter and a lot more paprika for color more than anything else. I also used a lot more Worcestershire sauce and a TB Old Bay. I forgot to add the sherry, but no one was the wiser!! I can't wait to make it again - for my own family! Also, use better crab meat. I didn't and spent a lot of time picking through it and still found some in my soup! Thanks for sharing this gem of a recipe!
Melt the butter in the top of a double boiler and blend in flour until smooth.
Add the milk and cream, gradually, and stir constantly with a wire whisk.
Add crabmeat, onion, mace, Worcestershire sauce, salt and pepper (if adding corn, take kernals off the cob and add to soup now).
Cook slowly over a double boiler for 25 minutes, stirring frequently.
It should get to just below a boil.
Just before serving, add sherry and stir.
Pour into indiviual bowls and sprinkle with paprika.