Crab Salad in Avocado No 2
ImPat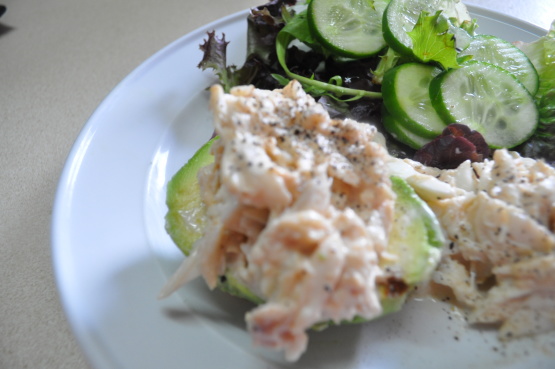 I wanted a really light, quick appetiser tonight to use up the meat of a couple of small crabs we caught. I also needed to use a ripe avocado so came up with this. An Aussie tablespoon is 4 teaspoons.

Top Review by ImPat
Had this for lunch and thoroughly enjoyed, just sorry I had no wasabi but used some chilli flakes to add a little bite. I made up the full mix of crab, though only used about 1/2 tablespoon of egg mayonnaise and served half over my avocado half and the rest on the plate with a simple green salad to make a light but filling lunch. Thank you Jan for giving me a great way to use up our surplus of fresh crab meat.
Mix mayo, soy, juice, wasabi and onion together, fold through the crab meat and pile into the prepared avocado.
Serve immediately.