Pam-I-Am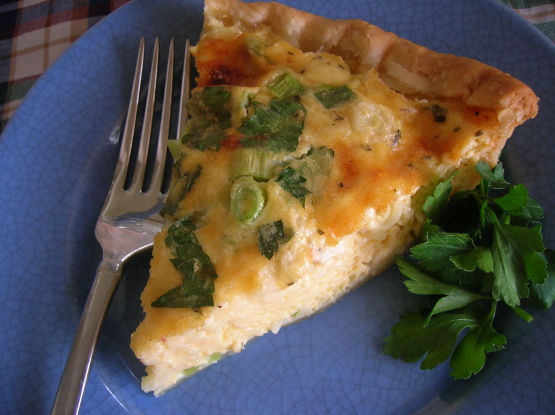 I like this served room temperature but the choice is yours...=) A variation of a recipe from Yankee Magazine.

I made this today and it was fantastic. The blend of cheeses was perfect. I used three eggs instead of four as well as half and half instead of cream. I also put a bit of a Maryland twist to it and added Old Bay to the crab mixture. I will absolutely make this again! 5/22/10: Made this again, this time I added spinach, yum!!!
Saute onion in butter until soft.
Add crabmeat, stir until heated through.
Sprinkle the bottom of the pie shell with Parmesan Reggian cheese.
Place crab and onion mixture in pie shell.
Sprinkle with feta cheese and then top with grated Swiss cheese on top of the crabmeat mixture.
Mix eggs, cream, salt, and cayenne pepper.
Slowly pour mixture over ingredients in pie shell.
Bake on the top rack of the oven at 375 degrees until done, about 25 minutes.
Cool before slicing.
Serve at room temperature.