Derf2440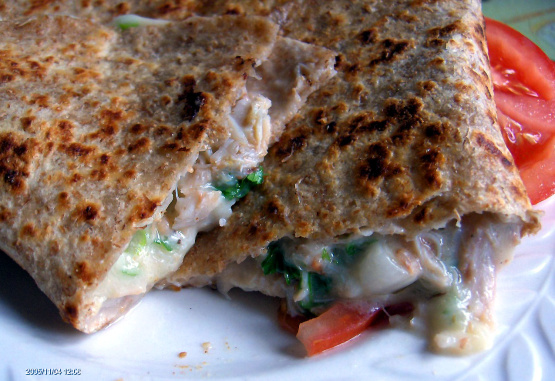 Quesadillas make a great snack as well as an easy lunch or supper! Kids just love them! This one can be easily made with shrimp, as well. :)

These were ok. I just thought they needed more kick. They were a little bland for my taste in Quesedillas. Maybe add some hot pepper sauce or something. . .
Shred crab meat; mix together with sour cream, lime juice, and green onions in a small bowl.
Season to taste with salt and pepper.
Heat griddle or small frying pan with a small amount of oil or cooking spray.
Take a tortilla, place about 1/8 of crab mixture on it and spread evenly.
Top with 1oz.
(about 1/4 cup) cheese and sprinkle with some chopped cilantro.
Place on hot griddle; when cheese starts to melt, fold in half.
Allow to heat through and brown nicely, then remove from heat.
Repeat with other tortillas.
Quesadillas can be kept warm on a stoneware plate or baking dish in the oven on warm while you are busy with the others.
Serve topped with a dallop of sour cream or guacamole, and wedges of lime, if you wish.