BMacNFry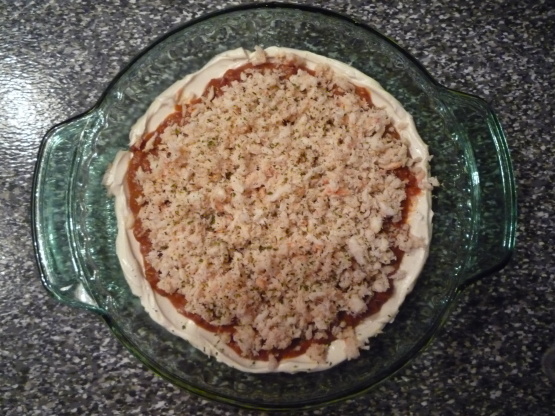 Terrific looking and great tasting! This dip is an unusual conconction of simple ingredients that makes an appetizing dip for your next party or family get-together. It can be prepared ahead and stored in the refrigerator, just be sure to take it out a little in advance to allow the cream cheese to soften a bit.
Mix softened cream cheese with dash of Worcestershire Sauce until color approximately matches the color of pizza dough.
Spread mixture in 8" pie dish to form the pizza crust.
Top the "crust" with hot dog chili sauce (about 1/2 the can) to make the pizza sauce.
Next spread the crabmeat on top of the pizza sauce as the "cheese".
Finally sprinkle lightly with parsley flakes to add a dash of color.
Serve with crackers or corn chips.