Rita1652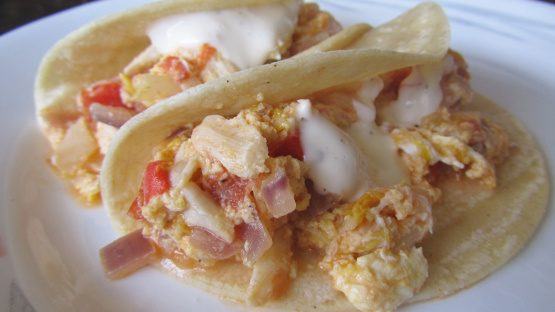 Combination of crab meat, egg, and fresh diced tomato with Ranch dressing.

This breakfast taco was good. I used 2 eggs instad of 3. Upped the cabbage(Napa my choice). Used less dressing. I also used reall crabmeat. Just don`t like the imitation crab. I would use flour tortillas because the corn tortillas fell apart. Some heat from jalapenos or pepper flakes would have been nice. Makes plenty for 6.
Heat large non-stick skillet over medium heat; add olive oil.
Add the chopped sweet onion; cook until light brown.
Add the diced tomato, shredded cabbage and crab meat; stir.
Meanwhile, beat the eggs together with the milk and salt.
Add the beaten egg mixture to the skillet.
Stir and cook until the eggs are done, cooked and seasoned with 1 Tablespoon Ranch dressing.
Heat the tortillas in a skillet; fill with the cooked crab meat.
Pour the remaining Ranch dressing on top.