V.A.718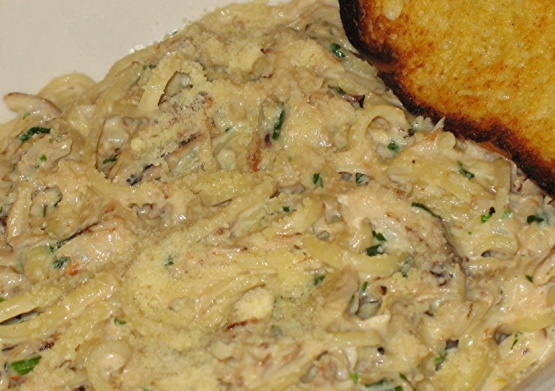 A little crab goes a long way with this creamy sauce. White wine and lemon juice help to cut the richness of the evapotated milk.

Loved the dish. double the sauce and crab used a pound and a half of pasta, but would leave it at a pound next time. I also added garlic salt instead of just regular.
In a skillet combine chicken broth and white wine.
Boil until reduced to 1/3 cup.
Remove from heat and slowley whisk in half and half and evaporated milk, stirring constantly until blended.
Return to heat and simmer until the mixture is reduced to 1-1/3 cup.
Meanwhile, combine 2 teaspoons softened butter and flour, slowly whisk into the milk mixture, Continue stirring until the sauce is thickened and no lumps remain.
(If sauce is to thick add more half and half or milk.) Add crab, chopped parsley, chopped green onion, salt and lemon juice.
Reduce heat and cook until crab is heated through.
Meanwhile, cook linguini according to package directions.
Toss with 1 tablespoon butter and grated parmesan cheese.
Pour sauce over the pasta and toss until evenly coated.