loof751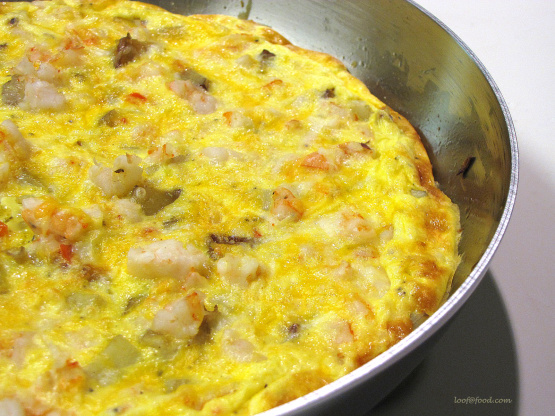 Yet another way to make use of those big blue crabs we are catching. 1 crab gave us 1 cup of beautiful meat for this.I can't do what I suggest in the last step as I don't have a griller (broiler) so I finished it with the lid on for a couple of minutes to set the top. That worked fine and would be good for camping. Just cook the onion and potato slower and longer if you can't access a microwave.

DH and I made this frittata for brunch today. We enjoyed it and thought it to be a nice alternative to the traditional frittata that we are used to making (mostly herb and mushroom). We both thought it needed a little extra flavor, so we served with DH's homemade habanero sauce on top, which did the trick nicely. The recipe doesn't specify, so DH put the cheese on top of the frittata just before baking in the oven. All in all, this was a nice dish and could easily serve 3 people. Thanks!
Mix the eggs, cream, lemon rind, tabasco, salt and pepper together. Set aside.
Microwave onion and potato about 3 minutes (to speed up cooking).
Heat oil in frying pan over medium heat and brown potato and onion and cook them through.
Add the capsicum and cook a few minutes more.
Pour over the egg mix and scatter the crab across the top.
Cook gently for about 5 minutes or until almost set through, then place under a griller (broiler) to brown the top. Serve at once.