Prep 30 mins
Cook 15 mins

Wasabi horseradish kicks up the flavor of these flaky crabmeat-filled appetizers. Created by Laurie McGraw, Pillsbury Bake-Off 41 Contestant.
1 (3 ounce) package cream cheese, softened
1⁄4 cup wasabi-horseradish light mayonnaise
1⁄2 teaspoon prepared horseradish
1 tablespoon finely chopped onion
1 1⁄2 teaspoons lemon juice
1 (6 ounce) can crabmeat, drained or 6 ounces fresh crab, cooked
2 (8 ounce) cans refrigerated crescent dinner rolls
paprika, if desired
chopped fresh parsley, if desired
Directions
Heat oven to 375°F In medium bowl, mix cream cheese, mayonnaise and horseradish until creamy. Stir in onion, lemon juice and crabmeat until well blended.
Unroll 1 can of the dough; separate into 4 rectangles. Press each into 8x4-inch rectangle, firmly pressing perforations to seal. With pizza cutter, cut each into 8 squares. Spoon about 1 rounded measuring teaspoon crab mixture onto center of each square.
Unroll second can of dough; separate into 4 rectangles. Press or roll each into 8x4-inch rectangle, firmly pressing perforations to seal. Cut each into 8 squares. Place squares on top of crab mixture. Press edges with fork to seal; place on ungreased cookie sheets.
Bake at 375°F for 10 to 14 minutes or until golden brown. Remove from oven. Sprinkle each with paprika and parsley; remove from cookie sheet. Serve warm.
Most Helpful
I love these! Easy to put together and very tasty. The wasabi, horseradish and lemon juice add just the right amount of flavor, complementing the crab well. I used refrigerated biscuits, so mine were semi-circles rather than squares - I don't think that affected the taste. :) Thanks for sharing!

This is a beautiful recipe! I served this to my best friend for a lunch date. She raved over their flavor. Thanks for posting!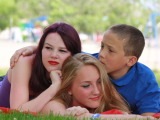 Very good pastry. I only made half of the recipe for my mother to take to a brunch today and it went over very well I hear. Some of them kinda exploded but I think thats because my dinner rolls were pretty old.... I bought them over a month ago. Def. a make again. Made for zwt 3!