Crab & Corn Cakes With Coriander Dipping Sauce
JustJanS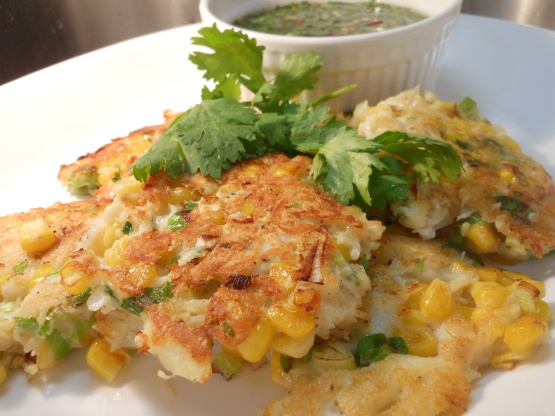 I have not made this as yet, but am posting here to make so very soon. I have posted because I know of a few chefs here on zaar catching crabs at this moment... so might like this recipe!!!! Found in the Herald Sun -- this looks a fantastic recipe!

The flavour of the crab cakes was outstanding, but they were very, very delicate to cook and deal with. I think that could be fixed by using 1/2 cup flour and two eggs. The sauce was overly sweet for our tastes, but I remedied that by adding in another a1 /4 cup of rice wine vinegar-spiciness was perfect!. I made bigger cakes than you suggested (two tablespoon each) but still managed to get 11. We truly loved the flavour (as I already said) and will make these again with the modifications I mentioned
Place the egg, flour, garlic, coriander stalks (only stalks) and one-third of the corn in a food processor and process to a rough paste. Add remaining corn, crab and spring onion, then pulse briefly to just combine. Season well.
For the dipping sauce, place sugar in a pan with rice wine vinegar and 1/4 cup of water, then stir over low heat until sugar dissolves and cool mixture slightly, then add fish sauce, sweet chilli sauce, fresh chilli and chopped coriander leaves. Set aside sauce for dipping.
Half-fill a deep-fryer or large saucepan with oil and heat to 190C (a cube of bread will turn golden in 30 seconds when oil is hot enough).
Working in batches, carefully drop heaped tablespoons of batter into the oil for each fritter. Fry fritters for 1-2 minutes until golden and crisp, turning whilst cooking. Remove with a slotted spoon and drain on paper towel.
Serve cakes immediately with dipping sauce.