Drebaby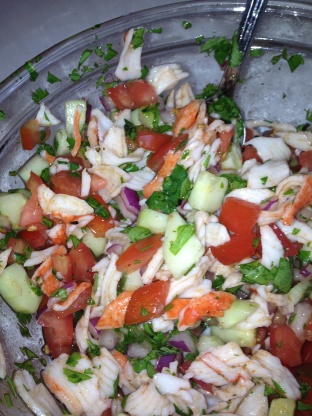 I love this for a summer party. My daughter will eat it for dinner.
16

ounces crabmeat or 16 ounces imitation crabmeat
1 1⁄2 cups cilantro, chopped (remove stems)
1⁄2 white onion, chopped

2

tomatoes, diced

3

limes

3

finely chopped serrano peppers (optional)

1

tablespoon ketchup
1⁄2 cup Clamato juice
In a large bowl blend crab meat without breaking it up too much.
Add juice of 2 limes, onion, tomatoes, chopped cucumber and Serrano peppers.
Add salt.
Combine the ketchup, clamato and the juice of the third lime.
Add more salt if necessary.
Serve with Mexican corn chip or crackers.
I serve in a margarita glass with a wedge of lime on top.
Note: You can use V8 juice instead of Clamato if you want.