Crab Cakes With Whole Grain Mustard Remoulade
Chippie1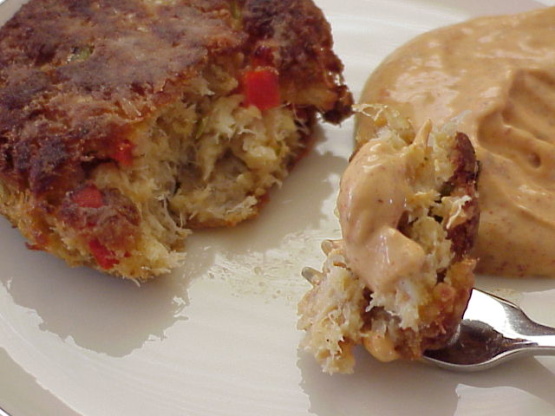 I had crab cakes at a local restaurant here (Shucks Oyster Bar) and tried desperately to get their recipe. After several email, phone, and in person attempts, I decided to try and recreate these fabulous cakes. With luck, I was able to perfect the cakes as well as the Remoulade. The pictures posted are before and after sautéing the cakes in olive oil. The after pictures were smaller cakes as I decided to make these as an appetizer for this Thanksgiving. I made them, cooled in the fridge, froze in freezer, then food savered them to have throughout the holidays.

Fantastic crab cakes! We really enjoyed these and will definitely make again. Thanks Chippie! UPDATE: I made these again for Christmas 2016, not even realizing I had made them years ago, and decided to add in some salt. It does NOT need salt! Make this recipe as directed and you will have perfectly delicious crab cakes, no need to deter from the original recipe!
For Crab Cakes:.
Mix all ingredients, except flour and oil in a large bowl.
Shape into patties and dust with flour.
NOTE: Can be frozen at this point.
Heat oil in a large skillet over medium heat.
When oil is hot, carefully place crab cakes, in batches, and fry until browned.
About 4- 5 minutes.
Carefully flip crab cakes and fry on other side until golden brown, about 4 minutes.
Serve with Whole Grain Mustard Remoulade or favorite sauce.
--------------------------------.
For Whole Grain Mustard Remoulade:.
Combine all ingredients and serve with cakes.
--------------------------------.
If cakes were frozen, heat in 350°F oven until desired warmness is achieved (approx 15 minutes).