karenury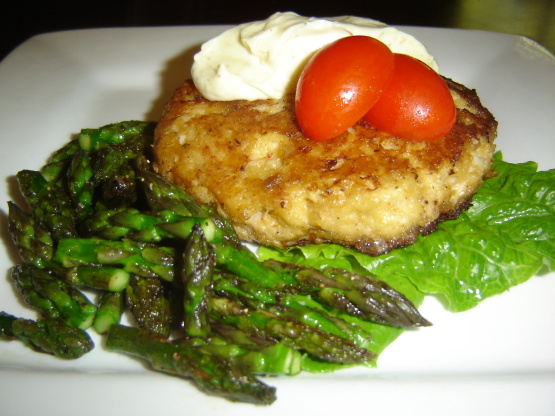 This recipe is my modified version of Paula Dean's crab cakes.
These crab cakes made a yummy, quick and easy light lunch. I made them as written, using 1/2 tsp. hot sauce, which gave them a little zing without being too spicy. We liked the added cayenne pepper in the bread crumb coating. Next time, I might add a little extra bread crumbs to the crab cake mixture to stiffen it some, as they were very soft and wanted to fall apart. I served these topped with a squeeze of lemon and with tartar sauce. *Made for Fall 2009 PAC*
Saute onion, garlic, and bell pepper until tender, and cool slightly.
Mix 1/3 cup bread crumbs, mayonnaise, sour cream, egg, Worchestershire sauce, mustard, lemon juice, horseradish, hot sauce, salt and pepper together in a mixing bowl.
Stir in sauted onion mixture, and crab meat, combining carefully.
Form into 5 cakes (1/2 cup measuring cup works well).
Combine remaining bread crumbs and cayenne pepper on a plate, and carefully coat crab cakes with mixture.
Saute cakes in non-stick pan coated with oil until golden brown, turning once.
Serve with favorite dipping sauce.