Crab Balls With Lemon-Caper Sauce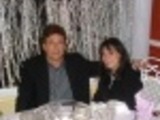 A wonderful appetizer perfect at your next cocktail party or holiday open house.
Directions
For Lemon-Caper Sauce; Mix all ingredients together in a medium bowl to blend.
Chill until cold.
(Can be prepared up to 1 day ahead. Cover and keep refrigerated.).
For Crab Balls: Spray 2 baking sheets with nonstick spray.
Whisk mayonnaise, eggs, mustard and Worcestershire in large bowl to blend.
Gently mix in crabmeat and ground crackers.
Place on prepared baking sheets.
(Can be made 8 hours ahead. Cover, chill.).
Preheat broiler.
Broil crab balls until brown and cooked through, watching closely to avoid burning and turning once, about 5 minutes.
Serve with sauce.
Reviews
Most Helpful
I served these for a dinner party and they were fabulous..I baked them after spraying with butter at 400 degrees for 10 minutes...fabulous
Two changes. But an excellent recipe. I agree with the one poster who said the 2 tablespoons should of been dijon, which is what I used and it was excellent. Also, I added just a bit of spinach to mine crab balls and it was excellent. I used frozen chopped spinach, drained very well. We loved the recipe.

one change: I think the 2 tbsp mayo in the sauce is supposed to be dijon mustard. This is what I did. Great recipes, a big hit at the staff Christmas party, had to give out the recipe to a lot of people. It's a nice change from having fried appetizers.