PaulaG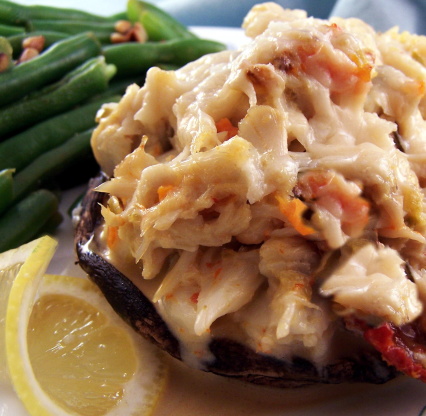 Lovely dish with the addition of carrot, celery and red bell peppers for color and taste. Serve with crusty French Bread or as suggested below in Variation. Make a delicious lunch or first course.

Just what I was looking for! I used whole milk instead of cream because it's what I had, and it turned out nicely - with cream I'm sure it would have been even better. This was easier than I expected and turned out really well. Served with toasted baguette slices and a nice white wine - it was a hit!
Preheat broiler.
In a small heavy saucepan cook carrot, celery, and bell pepper in butter over moderate heat, stirring, 1 minute.
Add broth, wine, and tarragon and boil mixture until liquid is reduced to about 1 tablespoon.
Add cream, ¼ cup Parmesan, and boil sauce until thickened, 1- 2 minutes.
Stir in crab meat, lemon juice, and salt and pepper to taste and divide mixture between two 1-cup shallow baking dishes.
Sprinkle remaining Parmesan over mixture and set dishes in shallow baking pan.
Broil gratin about 4" from heat 2 minutes, or until bubbling and golden, and serve with toasts.
Serve with thinly sliced French bread, lightly toasted.
Variation: Using Portabello Mushrooms: Remove gills and broil (gill side down) about 2 minutes. With gill side up fill with mixture and return to broiler until golden on top.