Crab and Silverbeet (Chard) Cannelloni
ImPat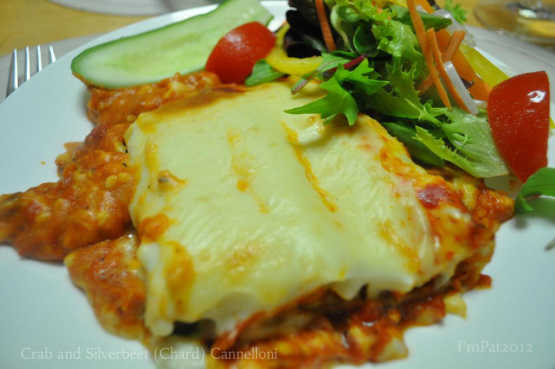 Something fairly original I came up with that I thought tasted great and was rich and filling without being too over the top. Note that I pinched Bechamel Sauce from evelyn/athens as part of the recipe.

Top Review by ImPat
This was my first time making cannelloni - I used 1 1/2 cups fresh crab meat, 1/4 cup 1 tablespoon cottage cheese and 1/4 cup finely shredded English spinich and then had a :oops: moment when I went to the bechamel sauce over the mix and realized I hadn't put it into the filling for the cannelloni tubes but I did get 12 tubes that were chock and block full and served the 4 of us well with side salads (coleslaw and salad bar (make your own). The only change I would make it to cut the tomato/pasta sauce back to 1 cup and cut the flour back to 3 1/2 tablespoons as even after 5 minutes of cooking of the roux I still had a slight floury taste in my bechamel. Will certainly be trying other cannelloni recipes as a change from our regular pasta meal. thank you Peter made as a recipenap/present for Aussie/Kiwi Recipe Swap #71 December 2012.
Start preparing the bechamel sauce by melting butter in medium saucepan over medium-low heat.
Whisk in flour and cook 3 minutes.
Whisk in milk and bring to boil, stirring.
Add salt and nutmeg.
Reduce heat and simmer until the same consistency as thickened cream.
Refrigerate the sauce for 30 minutes or more.
Combine all filling ingredients in a bowl and mix well with 1/2 cup of the bechamel sauce.
Fill cannelloni tubes with the mixture.
Spread pasta (tomato) sauce evenly over the bottom of a small baking dish.
Place the cannelloni tubes over the top in the dish.
Pour the remaining bechamel sauce over the top and sprinkle lightly with dried parsley.
Bake for 30 minutes at 180°C / 360°F.