twissis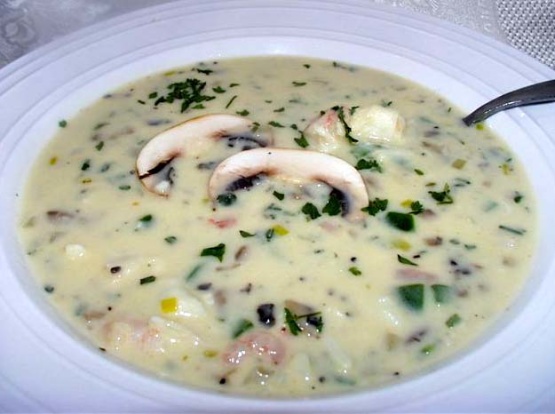 I can't remember where I got this recipe from, the clipping is in pretty bad condition, I think it was and old, old, old William Sonoma catalogue. I love it because is so easy and fast to make but it tastes like if you were slaving on the stove all day.

Wonderful soup! I used all FF half and half but only 4 oz. crab and the other 4 oz. shrimp. DH had 3 big bowls, so he loved it too.
For the lemon blend:.
Combine all ingredients in a small food processor or grinder. Process until finely and evenly chopped. Store on an airtight container.
For the bisque:.
Melt ¼ cup of butter in a large saucepan over medium heat; add onion and next 4 ingredients. Cook stirring until tender. Remove from pan and set aside.
Melt remaining butter in same saucepan over medium heat add flour stirring until smooth. Cook one minute.
Gradually stir in milk. Cook over medium heat stirring constantly until thickened and bubbly. Stir in Sherry, lemon blend, hot sauce and half and half.
Reduce heat; stir in crab meat and cook for 5 minutes stirring often.
Add saved vegetables, stir well and serve immediately.