Crab and Goat Cheese Poblanos With Mango Salsa
rpgaymer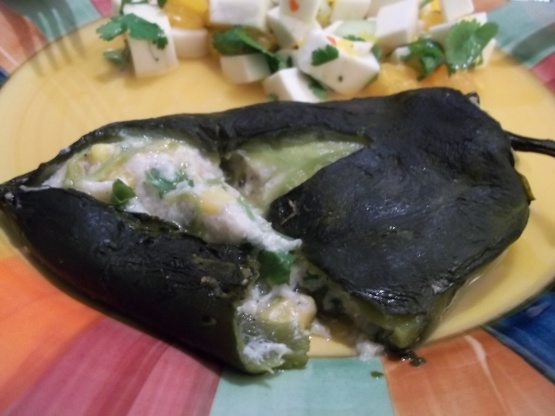 Goat cheese adds a tangy flavor to this spicy-sweet dish. Recipe is from Southern Living.
I love unique recipes like this, so I had to try it as soon as I saw this. It was really good! The creaminess of the goat cheese combines perfectly with the mild spiciness of the poblanos. I did not serve this with mango salsa, but instead served a jicama and mandarin orange salad on the side. It made for an overall great meal. Thanks for sharing.
Broil chile peppers on an aluminum foil-lined baking sheet 5 inches from heat for 5 minutes on each side or until peppers look blistered.
Place peppers in a large zip-top plastic bag; seal and let stand 10 minutes to loosen skins. Peel peppers. Carefully cut peppers open lengthwise on one side, keeping stems intact; discard seeds. Set peppers aside.
Process egg whites in a food processor until foamy. Add mozzarella cheese and next 5 ingredients, processing until blended.
Place cheese mixture in a large bowl. Stir in crabmeat and next 3 ingredients.
Spoon crabmeat mixture evenly into peppers, pinching cut edges together to seal. Arrange stuffed peppers, seam side down, in a 13 x 9 inch baking dish coated with cooking spray.
Bake, covered at 375 degrees F. for 25-30 minutes or until thoroughly heated. Top with Mango Salsa, and garnish with cilantro if desired.