Crab and Avocado Quesadilla
ImPat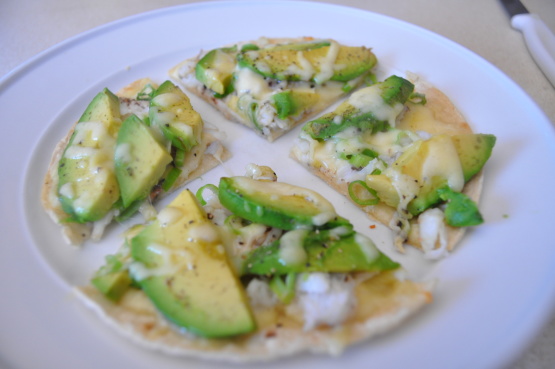 I threw this together from leftovers I had from making sushi the night before, and it was delicious!

Top Review by ImPat
A lovely quick lunch, I used 1/2 a small avocado, pizza cheese blend and fresh crab meat and sprinkled a little extra cheese on the top and a little sprinkle of chilli powder, which I put on the first layer of cheese and baked in the toaster oven at 180C for 15 minutes. Thank you Yummy InMy Tummy, made for Bargain Basement Game.
If you're cooking this in panni press or toaster oven, put the ingredients on one half of the tortilla. If you're using a microwave or oven, spread them out over the whole tortilla.
Sprinkle the cheese on the tortilla.
Put the crab on.
Put the avocado slices on.
Snip small circles of the green part of the green onion onto the tortilla.
Season, to taste, with salt and pepper.
Put on a dash of nutmeg or chilli powder, if you like.