Calee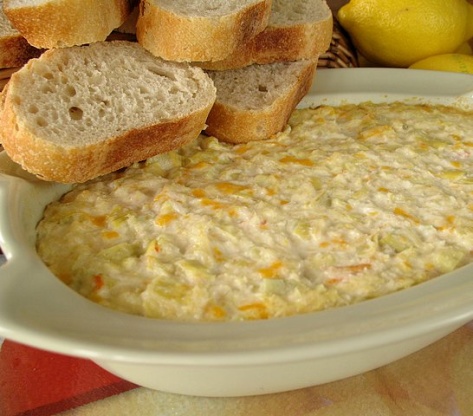 This is delicious!! I served it on toasted French bread and with crudites. From the local newspaper. (I have made this now with no fat mayo and no fat sour cream and marinated bottled artichokes, turned out fantastic!!)

Made this to take to my F2F book group last night, and it got much better reviews than the book of the month! I used canned crab and soaked it in milk for about an hour then drained it well and rinsed it in cool water before adding it to the dip, this is a trick I learned from a caterer in my area--really freshens the taste! We had it with grilled french bread slices rubbed with garlic---wonderful! I've already made plans to take this to several gatherings this summer--thanks so much Derf!
Mix all ingredients together in a large bowl.
Once thoroughly combined, spoon into a medium sized baking dish or 2 small ramikins and bake at 425f degrees for 15 to 20 minutes until mixture is browned and bubbly.
Serve with pita wedges or French bread or crudites.