Crab and Andouille Jambalaya
Prep 15 mins
Cook 30 mins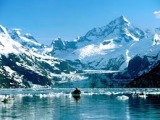 From Food & Wine magazine. This makes a pretty and tasty meal for four. If you like your jambalaya really spicy, you could add hot sauce when serving. Enjoy!
Directions
In a medium to large enameled cast-iron pot (or any thick, good quality cookware), heat the olive oil.
Add the andouille and cook over med-high to high heat, stirring occasionally, until lightly browned, about 3 minutes. Transfer to a bowl.
Add the onion, bell pepper, celery and garlic to the same pot.
Cover and cook over med-high heat, stirring occasionally, until the veggies are soft, about 3 minutes.
Add the Old Bay, rice, andouille and cook, stirring occasionally, until the rice is opaque, about 2 minutes.
Add the chicken stock, water and thyme, season lightly with salt and pepper and bring to a boil - then turn heat to very low.
Cover and cook over very low heat until the rice is tender and the liquid is absorbed, about 15 minutes.
Fluff the rice with a fork and stir in the crab and scallions.
Cover and let stand for 2-3 minutes, just until the crab is hot.
Discard the thyme sprig.
Serve the jambalaya in bowls, passing the hot sauce at the table.
Reviews
Most Helpful
This was a good, interesting change from a tomato-based jambalaya. It was very savory and filling. ZWT9

We made this tasty jambalaya last night for dinner and really enjoyed it. Since I don't eat meat, I used Vegan Andouille-Style Sausage for the andouille. This andouille recipe is pretty spicy, so along with the other jambalaya ingredients, I used very little hot sauce upon serving. Both DH and I agreed that this is a keeper that we would have again. Thanks!

Scrumptious! My grocer doesn't carry Andouille sausage so I substituted 1/2 hot links and 1/2 hot Italian sausage. Thanks, LifeIsGood! Made for Aussie New Zealand Recipe Swap.