Crêpes (Palatschinken) (Gluten Free)
Kathy228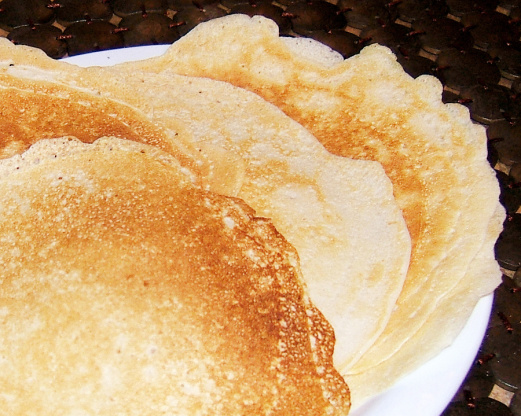 Corn free as well. Austrian and German, these are usually served with different types of fillings and eaten for lunch or dinner. Traditionally rolled with apricot or strawberry jam and sprinkled with confectioner's sugar. A variety of different fruit sauces, like apple sauce or thick fruit jams called lekvar, lemon juice and sugar, chocolate sauce, hazelnut-chocolate cream, almonds, dried or fresh fruits, sweet cottage or quark cheese and raisins, cocoa powder, or any combination thereof. Rakott palacsinta are layered pancakes with sweet cottage cheese and raisins, jam and walnut layers between the pancakes, baked in the oven. They may also be eaten unsweeted, plain, or filled with cheeses, meat, mushroom or vegetable stews, topped with sour cream. DH even makes these fresh at work if I send him with a ziplock of the dry mix and my DH is not a cook! This recipe is modified from Carriefaith's on the forum of http://www.celiac.com.

You will never know that these are gluten free!!! My whole family really enjoyed them with some fresh fruit and GF granola. They were quick and easy to make and will certainly be on my make often list. Thanks for sharing. Made for ZWT6 Seasoned Sailor and his Sassy Sirens.
In a medium bowl, place the bean flour, potatostarch, tapioca flour, and salt. Whisk together.
Add the eggs and beat together until smooth.
Slowly beat in the water.
Let rest in the fridge for at least 20 minutes.
Heat a 9" skillet or frypan over high heat, brushing with oil. Be sure it is hot enough for water to dance on the surface before starting to cook the flat bread.
Spoon in about 4 tablespoons of batter or enough to cover the bottom of the skillet.
Cook until the bottom of the wrap is golden brown and the edges curl and the top seems dry.
Turn and barely cook the other side.