Sara 76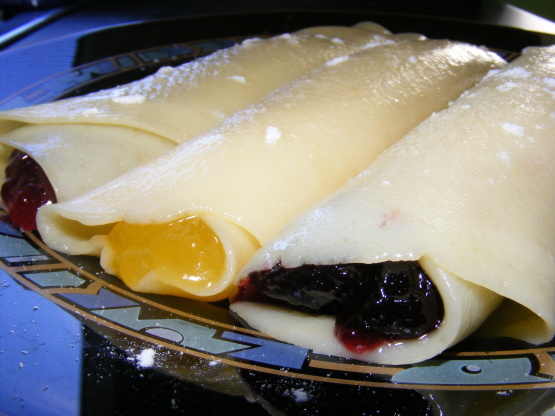 I used to sell these in High School all the time as a fundraiser for the French Club I belonged to. We ALWAYS ran out! We served them with Nutella or Jam.

These were great! We had 3 extra kids sleep over last night, which gave me a total of 5 kids and 2 adults to feed for brekkie this morning! I tripled this recipe, and they were a hit! I could have made more mixture, as we ended up running out. We served them with a choice of raspberry jam, blackberry jam, lemon butter, and maple syrup. [Made for Aus/NZ Recipe Swap #22]
Combine egg, milk, flour, sugar, oil and salt.
Heat lightly greased skillet.
Spoon in 2 to 3 tablespoons batter.
Lift and tilt skillet to spread batter over bottom.
Return to heat and lightly brown on both sides.