Crème Caramels (Easy Microwave Fix)
Boomette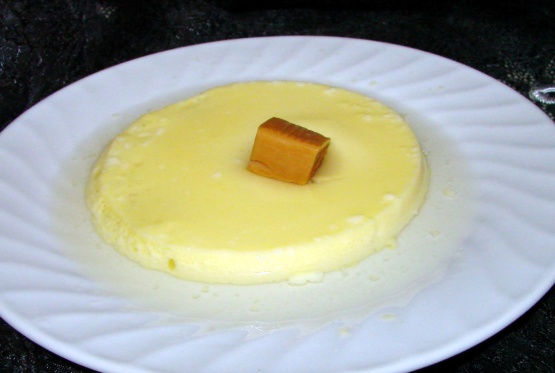 This recipe from *Microwave Cooking* by Lorna Rhodes is a make-ahead dessert treat that would be the perfect finale to an otherwise heavy meal & convince your guests you have made a special effort for them. A big bonus here is <200 cals & <9% fat per serving. (Time does not include standing or chilling time. Pls also note this is the 1st of these recipes that uses 2 Power Settings - HIGH & LOW). *Enjoy* !
I cooked the syrup for 11 minutes, it was golden a little bit and I poured it quickly into the ramequins. To cook the creme 12 minutes at LOW, it was not set at all. I added more times at low. And even after that, it was not set. So I put it at HIGH for near 3 minutes. And it was set. When I inverted them in the plates, there was the syrup but no color. Maybe I did something wrong. I don't know. I wish it would have worked out perfectly. But the taste is great. DH loved it also. Thanks Twissis.
Place water + 1st measure of sugar (4 oz) in a heatproof glass jug & stir well. Cook on HIGH for 11 minutes, till golden (Do not allow the syrup to become too brown as it will cont to cook after removed from the oven). Pour syrup quickly into 6 ramekins where you will allow it to cool & harden.
Meanwhile, beat the eggs, egg yolk & 2nd measure of sugar (2 oz) together.
Pour milk into a jug & cook on HIGH for 4 minutes. Whisk into the egg mixture w/the vanilla extract & divide this new mixture between the 6 ramekins.
Stand ramekins in 1 container & pour in enough water to come halfway up the sides of the ramekins. Cook on LOW for 12 minutes till set. Remove from water, leave to cool & then chill under refrigeration.
To Serve: Invert caramel onto a serving dish & garnish w/berries as desired for color.