Cozze Umbro (Mussels in Italian Tomato Sauce)
Prep 30 mins
Cook 20 mins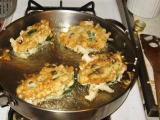 This is a wonderful way to introduce people to seafood. No surprises here -- this stuff tastes fantastic! The original recipe comes from Saleh al Lago Restaurant In Seattle, Washington, where they use Penn Cove mussels, but any mussels will do as long as they are fresh. I once had these at a convention in Toledo, Ohio and I have made them myself from this recipe on several occasions -- they are always very popular once people try them. You will find, the first time you make them, that you didn't make enough. I always make two batches rather than doubling the recipe as they are best fresh out of the pan.
Directions
In a large pan, heat the oil and toss in the pepper flakes and the garlic.
Add in the mussels and toss over a medium heat for one minute.
Pour in the wine and simmer until it is reduced by half.
Pour in the stock, lemon juice, tomato sauce. Add the salt and pepper at this time also.
Cook for another two to three minutes until all the mussels have opened. Discard any that do not open.
Pour into a warm serving bowl and garnish with the fresh parsley.
Reviews
Most Helpful
Oh wow. These were so good. We had to use garlic brean and spoons to make sure that we didn't leave any sauce. Thankyou Bone Man for sharing the recipe. I will use it often.