Cowboy Steaks With Onions
Kim127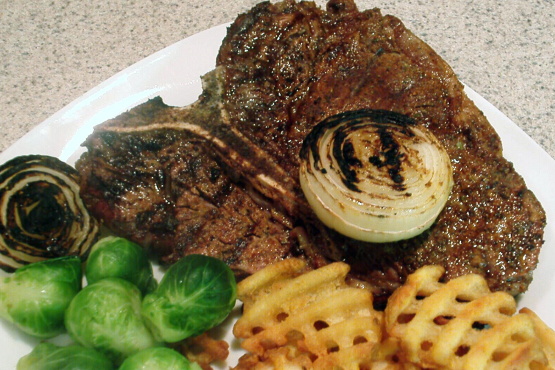 Serve these bad boys with a side of Yucca Fries (Yucca Fries (Yuca) Yucca Fries (Yuca)) for a bona fide foot stompin' good meal! Adapted from Steven Raichlen. WINE: The chili rub and charred onions shout out for an equally zesty California Zinfandel. Look for such peppery, fruity examples as the Amici Cellars 2002 or a 1997 Alexander Valley or even the 2003 EOS.

Top Review by Kim127
Oh My! What a hit these tasty steaks were. DH and I both loved these and gave them a big high five. Only thing I changed was to cut the cayenne pepper down to 1/2 teaspoon because DH is a senstive man, don't ya know, lol. The onions on the grill were a wonderful touch and I can't believe I've never done that before. They had such a sweet flavor to them. We served these with brussels sprouts and waffle fries. And the leftovers, cold were great and DH had a heck of a steak sandwich to take to work. Thanks for this one!! Made for PAC Spring 2008.
1 1⁄2 tablespoons pure chile powder
1 1⁄4 teaspoons cayenne pepper
1 1⁄4 teaspoons ground cumin
1⁄2-1 teaspoon garlic powder (adjust to your liking)

1

teaspoon dried oregano

6

(1 lb) beef t-bone steaks, cut 3/4 -inch thick

2

large onions, sliced crosswise 1/2 inch thick

2

tablespoons vegetable oil
Combine chile powder, cayenne, cumin and oregano with 1 tablespoon of salt and 1 teaspoon of freshly ground black pepper. Rub the steaks all over with the spice mixture and place on a platter until they come to room temperature.
Light the grill or set oven to broil and place rack on top level. Lightly oil a broiling pan and place in oven to heat. Brush the onions with oil and season with salt and black pepper. If using a grill put onions over the hot fire until charred, about 8 minutes. If broiling, set aside.
Grill the steaks over the hot fire for 4 to 5 minutes per side for medium rare or broil the steaks 6-7 minutes a side on heated broiling pan along with oil coated onions. Place steaks on plates and top with the onions. Serve Yucca Fries (Yucca Fries (Yuca) Recipe #153368) on the side.