Bayhill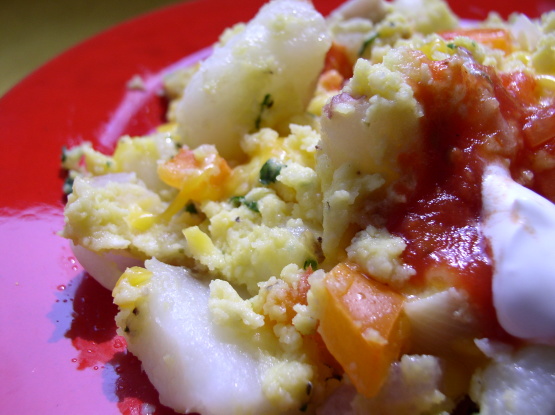 This came to me in an e-mail. As we had guests at the moment I decided to try the recipe. Served it for breakfast but it's equally good as lunch. Doesn't take long to make either.

We have this many Saturdays, but without the pototoes! My family just loved this, Our new "Saturday" Brunch is now your shared recipe, thank you so much for sharing. I did not have any cilintro, so used parsley instead and it was great. other than that I did not change the recipe!
Dice the onion and pepper.
Peel the potatoes and dice them.
Sauté, in the butter over medium heat, onion, potatoes, and pepper until the potatoes are almost tender.
While the vegetables are cooking, mix the eggs, cheddar, basil, cilantro, salt, and pepper together in a bowl.
Once the potatoes are nearly cooked, pour the egg mixture over the vegetables.
Turn the heat down and continue cooking, while stirring often, until the eggs are done.
Immediately after cooking, sprinkle the remaining cheddar over the scramble and let it melt.