Parsley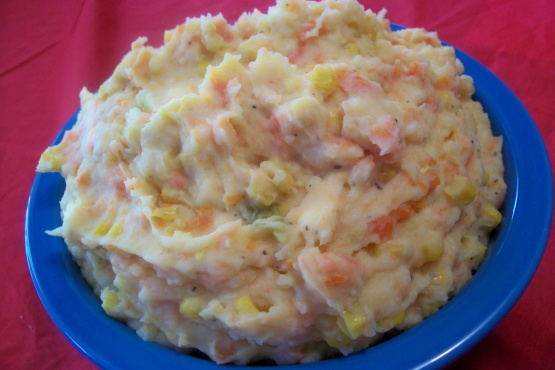 These are soooo good! Do not be afraid of the jalapeno, they do not end up at all spicy. (in fact, I often add more then one!) You will never go back to boring mashed potatoes again! I got this recipe from allrecipes, and was shocked that it has not been posted here.

Updated: need stars - Pretty good!!!! Don't usually like cheese in my potatoes but there are so many other elements in it, don't really take it. Along with the garlic. I used like 8 or 9 bulbs. It does have a zip from the jalapeno. I took out the seeds so my daughter will eat it. I added a little milk so I could whip the potaotes. Don't like just mashed with chunks. Also some season salt. My husband is grilling pork chops tonight so I made this to go along as a side.
Place potatoes, carrots, jalapeno pepper and garlic cloves in a large pot. Cover with water, and bring to a boil over high heat. Cook 15 to 20 mins or until potatoes are tender. Drain water from pot.
Stir in butter. Mash this mixture using a potatoe masher until the butter is melted, and the potaotoes have reached the desired consisistency.
Mix in cheese, corn, salt and pepper to taste.
Serve hot, and ENJOY!